Initiation 2015
THE PAST IS PRESENT
Our historical archives now feature more than 200 photos of Cornell Alpha Delts and dates back more than a century. Browse through them to see the men who have made our chapter great for more than 100 years. (Pictured above are brothers from our 1880s archive.)
FEATURED ITEMS
Homecoming 2015
Visit the photo gallery
for all the details.
2015 Summer Projects
Find out what we've been up to this summer:
photo gallery
.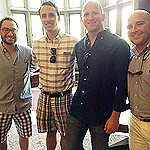 Reunion 2015
Visit our
photo gallery
from Reunion Weekend, June 4–7, 2015.
RESPONDING TO STUDENTS IN DISTRESS
Cornell has provided counseling, advising, and information resources, as well as protocols for responding to students in distress. Download a PDF of this information here, or visit our important contacts page.